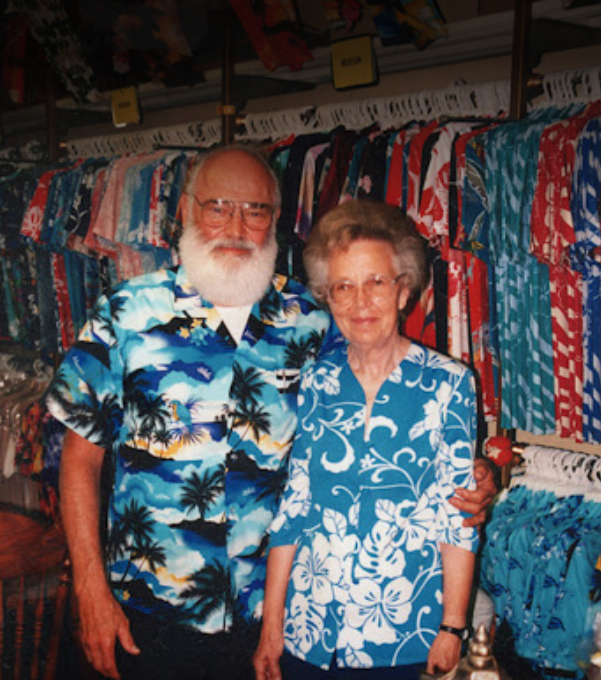 History
Established in 1964.
A Hawaiian Legacy: The 56-year history of Exotical Hawaiian Apparel Aloha!
Aloha! Exotical Hawaiian Apparel has been in business since 1964. It all started as a humble furniture shop, carrying a variety of tropical import items like bamboo and rattan furniture. Paul Orloff was running his shop in Downey, CA when a twist of fate led to nearly half a decade of providing Southern California with authentic Hawaiian and Island apparel.
Just next door to Paul's rattan furniture shop sat a quaint little clothing shop called Peg's Tiki Togs. Peg's togs were rather popular at the time as Tiki and Island style were at an all-time high. However, tragedy struck when Peg's husband died in a race car crash. She decided to sell her merchandise to Paul. But what to do with all that Hawaiian clothing?
As it turns out, the Island wear fit in well with Paul's tropical imports and furniture. He and his wife Marian began selling these items side-by-side in their Firestone Blvd. shop. But what to call this store? Legend tells it that the name Exotical came from exactly what they sold: "Exotic imports of California."
The birth of such a unique shop filled with unusual and exotic merchandise, combined with the inimitable personal service of Marian, made Exotical an irresistible hotspot. Paul soon had to expand Exotical until he owned shops on either side of his store. They built the iconic Tiki-style arch over the main entrance and decorated the interior with palm thatching, bamboo trim, and animal-print fabrics. Authentic Hawaiian music wafted throughout the store, as the brightly-colored clothing, leis, flowers, and shells drew visitors into the Hawaiian experience that is Exotical.
Today the store is run by Paul's son and grandchildren that have moved the store to the new location in Orange County, CA. Exotical still carries tropical items beyond Hawaiian clothing, including vintage albums, paintings, shell knickknacks, and coconut monkeys. The moment you walk in the door, you are still transported to Hawaii by the colors, music, and friendly Island charm. Visitors come from as far as Las Vegas and San Diego to get the authentic Hawaiian experience nestled in sunny Southern California.